Team Asano (which, as a reminder, is part of the Creative Business Unit II of Square Enix where we find the Business Division 11 which therefore deals with the Bravely series and HD-2D games) often communicates on the sales of these games. For example, last decemberwe learned that Bravely Default II had exceeded one million copies sold worldwide. And this week, Team Asano found as his latest creation, Triangle Strategy, which was developed with the help of the Japanese studio Artdink (which has developed many games such as A-Train, Wonder Boy: Asha in Monster World, Gundam Battle Tactics and many other titles based on successful licenses, such as Macross for example, but also published several games including Ogre Battle : The March of the Black Queen and Tactics Ogre: Let Us Cling Together on PlayStation in Japan), sold for nearly 800,000 copies worldwide, counting both physical and dematerialized versions. More than 200,000 sales come from Japan and Asia. As has been the small tradition of Team Asano for the past few years, the artist Naoki Ikushima / icuses (lead character designer of Team Asano games since Octopath Traveler) made a special illustration as a celebration:
On the occasion of the release of Triangle Strategy, Naoki Ikushima also created a special illustration, and Nintendo of Europe released a short video showing how the artist did it:
« I wanted to offer them a moment of respite, even if it was fleeting… »
As promised last Februarythe extended version of the Triangle Strategy theme song, Song of Triangle Strategywas published as soon as the game was released. Composed by Akira Senjuwhich is also part of the game's soundtrack, it is performed by three singers: Sarina, Reina (real name Reina Suzuki) and MARU. The lyrics were written by Akira Senju and Team Asano. You can listen to it on YouTube, iTunes, must and other platforms listed here.
To celebrate the release of Triangle Strategy, Team Asano called on different artists to create special illustrations to be found on the official Twitter account. The latest artwork shared at the launch of the game was made by the artist Tatsuaki Urushiharawho joined the team during the development of Triangle Strategy (we also talked about it Last year, when he created a special illustration to celebrate the release of Bravely Default II). He notably worked on the 2D illustrations of the RPG Last Ranker d'Imageepoch and Capcom and on God Eater 3or Earth's Dawn.
We also learned that the official artbook Triangle Strategy Design Works The Art of Triangle 2018-2022 will be available on April 1st next in Japan for 2 970 yens. It will include many drawings and illustrations (key visuals, characters, sets…), including several that have never been unveiled before, but also pixel art. The cover was designed by Naoki Ikushima / icusesthe character designer of the game. The artbook is available for pre-order on Play-Asia, CDJapan and Amazon.
The complete Triangle Strategy soundtrack was released on March 9. The album is available in physical and can be purchased on the Square Enix official European store at the price of 36,99 €. It comprises 70 songs of the game spread over four discs, all composed by Akira Senju. The composer worked with his own orchestra, and you can find the full credits at VGMdb. An official English page can also be found at this address and allows you to listen to samples of each track.
After Revo (Sound Horizon / Linked Horizon) pour Bravely Default and Bravely Default II, ryo (supercell) for Bravely Second : End Layer and Yasunori Nishiki for Octopath Traveler, Team Asano has teamed up with another renowned composer this time for the soundtrack of Triangle Strategy: Akira Senju. In addition to being a composer, he is also an arranger and conductor. You have certainly already seen it in videos of certain concerts, such as Luxendarc Kikou, the big concert of the first Bravely Default organized by Revo and his group Linked Horizon, with whom Akira Senju worked. He was a conductor, but also arranger and pianist, and also participated in the album Luxendarc Shoukikou. Choosing him for Triangle Strategy was therefore very thoughtful for Team Asano. Akira Senju is not known at all in the world of video games, as was the case for the other composers of Team Asano projects, but about twenty years ago, he had arranged a symphonic suite for the game Valkyria no Densetsu from Namco.
Akira Senju is also very well known in the field of anime, since he composed the soundtrack of Fullmetal Alchemist : Brotherhoodbut also Mobile Suit Victory Gundam, Tales of Vesperia : The First Strike, Mama wa Shōgaku 4 Nensei, Chibi Maruko-chan : My Favorite Song, B't X, The Silent Service, Princess Arete, Tetsujin 28-go, The Snow Queen, Red Garden, Magic Tree House, Valvrave the Liberator and Battery. He has also composed for several films and dramas, such as Strawberry on the Shortcake, Yomigaeri, Vessel of Sand, Nothing Soso, Furin Kazan, Ienakiko, Honmamon and Reminiscence.
Note that recently, Akira Senju worked with the Louvre Museum in France for a documentary project with the NHK (Akira Senju has also worked on the music of several documentaries, such as Nihon Eizo no 20-Seiki, Eternal Beauty and Heisei-shi). All information about the project can be found at this addressand you can also listen to the music composed by Akira Senju on Spotify and Apple Music. Note that Akira Senju also has his own official site.
Concernant Song of Triangle Strategy, Sarina is the youngest of the three singers (she is the one we hear from the introduction). Aged 19 and born in Hawaii to a Japanese father and a Lebanese mother, she was very interested in music, theater and art from an early age. She studied at Berklee College of Music from Boston then to theUCLA, in California, to study theater in general. She is active on social networks and has published some of her songs (composed by herself) on YouTube. She was working in February in recording sessions for her major debut for April 1, 2022, with a first single titled Identity.
Reina Suzuki is an award-winning Japanese chorister who has worked with major orchestras around the world. This is not the first time that she has worked with Akira Senju, we already found her in the anime's soundtrack Valvrave the Liberator. She has also collaborated with renowned composer Michiru Oshima for anime OST Little Witch Academia.
At last, MARU is the singer with the deepest voice of the trio. She started playing the piano at the age of 4, and after studying in the United States at the age of 17, she began musical activities. During her debut in 2010, she bore the nickname Fire Lily and in 2016 she released a jazz album titled I CAN HANDLEIT. She then appeared in the musical RENT of Broadway in 2015 and 2017, and participated in the backing vocals of several groups and singers including Superfly, Miho Fukuhara and Milet. She was also present in a world tour of the British group The Brand New Heavies. Finally, she takes care of performing Kagoshima City theme songs and performed the song The Other Side of the Wall as a group member Void_Chords of the composer Ryo Takahashi for the opening credits of the anime Princess Principal.
On My Nintendo, alternate cover art (featuring two of Naoki Ikushima's designs for Triangle Strategy) and two sets of pins depicting the main characters can be purchased for platinum points. All the information to obtain them can be found here.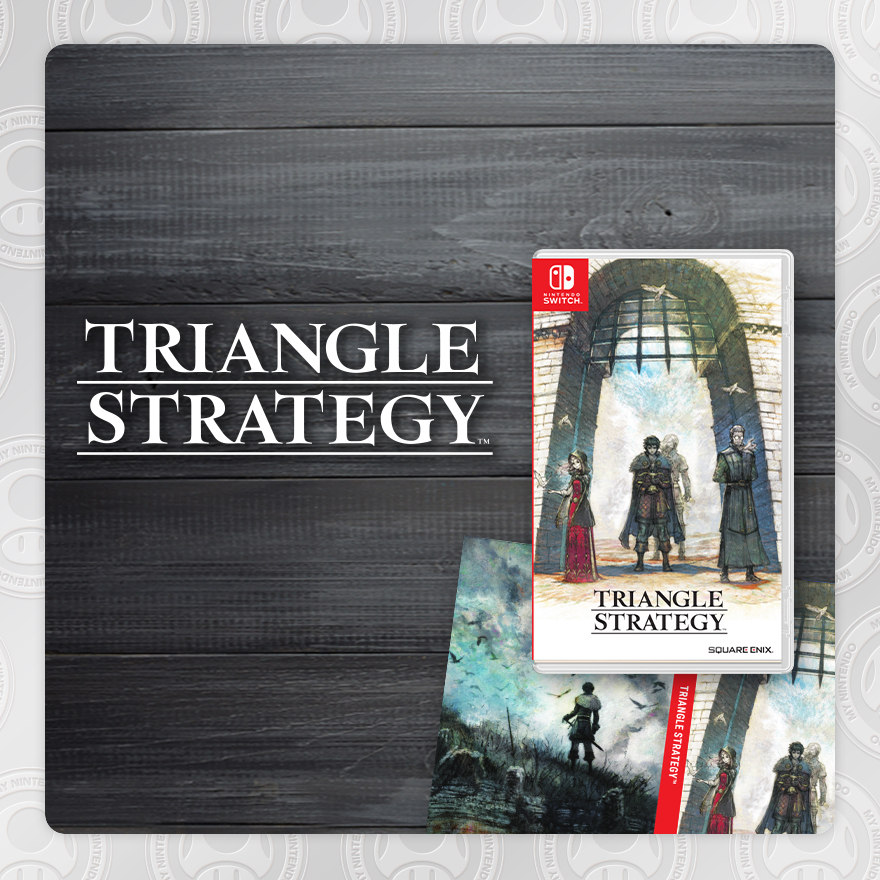 We have published many articles on Triangle Strategy, detailing the story, the main characters, the demos (as a reminder, if you downloaded the first demo, consider getting the last one which includes the complete prologue with all the improvements made by developers since the game was officially announced), the team behind the game, the gameplay, the improvements made by Team Asano and Artdink and much more. You will find them all at this address. We also have many images and illustrations, grouped in the gallery.
We know that Team Asano is currently working on two major projects: the remake of Live A Live developed with the studio history and Dragon Quest III HD-2D designed in collaboration with AMATA KK. The Live A Live remake is scheduled for July 22 exclusively on Switch and we have a lot of information that you will find in our full article. at this address. Concerning Dragon Quest III HD-2D, its release date is unknown, just like its supports, but you will find the first information and images here.
During a radio special with Team Asano, we learned that Square Enix would like to release more HD-2D remakes of old games. Super Famicom, in addition to those of Live A Live and Dragon Quest III. He is the president of the company, Yosuke Matsuda, who expressed this desire to Team Asano. The developers are therefore thinking about which game could benefit from an HD-2D remake. According to them, some could therefore work well, but others not such as mahjong games for example. It was Live A Live who started off with the ideas for an HD-2D remake, with ActRaiser. However, there has already been Actraiser Renaissance in 2021, which was developed with the help of Sonic Powered. It was therefore Live A Live which was chosen first (not counting Dragon Quest III, which was obviously not part of the list during the decisions dating from before Live A Live, so we can assume that the development of Dragon Quest III HD-2D debuted before that of the remake of Live A Live).
No other game was mentioned during the broadcast, but we imagine that Team Asano has thought of many other Super Famicom titles, and many people are already dreaming of a Chrono Trigger HD-2D.
At the beginning of the year, Team Asano also spoke about its future projects directly on Twitter, again accompanying a happy new year message with a special illustration by Naoki Ikushima. The team claimed that several titles will be announced and released in 2022 in addition to Triangle Strategy. We already know that there will be Live A Live, and we can also hope that Dragon Quest III HD-2D will be released the same year. However, Dragon Quest III HD-2D was announced before this post appeared, so we imagine that there are one or more other games still secret, including perhaps a new Bravely. Meanwhile on the mobile gaming side, Octopath Traveler : Champions of the Continent continues its way with more collaborations and will be released elsewhere this summer in the West. Bravely Default : Brilliant Lights was released on January 27, but we have no information regarding a possible location.